Archive for August 2013
Saturday, 31 August 2013
Posted by AVINASH CHAKRAVARTHI
two things to be taken in to consideration while purchasing the motors,they are
speed and torque
speed will be measured in RPM (rotation per minute),more is the rpm more will be the speed.
the amount of the force applied by the motors will be based on the torque of the motor
it means more the toque of the motors ,it will apply more force.
torque will increase by adding the gears to the motors
usually we will prefer dc motors ,stepper motors,brush less motors, servo motors.
1.servo motors are preferred to the arms movements of the robot
PWM signals are sent to the black yellow wire and vcc to red and gnd to black.
PWM signals can be generated from
555 ic
.
normally servo rotates from 0 to 180 degree ,but by changing the internal gears we can make it rotate 360 degree
it provides high toque with less rpm.(which are preferred to arm movements)
2.DC motors:
dc geared motors are preferred by most of the hobbyist as they provide good torque with high speed (rpm) at low price
normally 300 to 500 rpm with torque (2-3 kg cm)is preferred for robots.
Thursday, 22 August 2013
Posted by AVINASH CHAKRAVARTHI
The 555 Integrated Circuit (IC) is an easy to use timer that has many applications. It is widely used in electronic circuits and this popularity means it is also very cheap to purchase.
A 'dual' version called the 556 is also available which includes two independent 555 ICs in one package.
1.
Pin configuration
Pin 1 (Ground):
Connects to the 0v power supply.
Pin 2 (Trigger):
Detects 1/3 of rail voltage to make output HIGH. Pin 2 has control over pin 6. If pin 2 is LOW, and pin 6 LOW, output goes and stays HIGH. If pin 6 HIGH, and pin 2 goes LOW, output goes LOW while pin 2 LOW. This pin has a very high impedance (about 10M) and will trigger with about 1uA.
Pin 3 (Output):
(Pins 3 and 7 are "in phase.") Goes HIGH (about 2v less than rail) and LOW (about 0.5v less than 0v) and will deliver up to 200mA.
Pin 4 (Reset):
Internally connected HIGH via 100k. Must be taken below 0.8v to reset the chip.
Pin 5 (Control):
A voltage applied to this pin will vary the timing of the RC network (quite considerably).
Pin 6 (Threshold):
Detects 2/3 of rail voltage to make output LOW only if pin 2 is HIGH. This pin has a very high impedance (about 10M) and will trigger with about 0.2uA.
Pin 7 (Discharge):
Goes LOW when pin 6 detects 2/3 rail voltage but pin 2 must be HIGH. If pin 2 is HIGH, pin 6 can be HIGH or LOW and pin 7 remains LOW. Goes OPEN (HIGH) and stays HIGH when pin 2 detects 1/3 rail voltage (even as a LOW pulse) when pin 6 is LOW. (Pins 7 and 3 are "in phase.") Pin 7 is equal to pin 3 but pin 7 does not go high - it goes OPEN. But it goes LOW and will sink about 200mA.
Pin 8 (Supply):
Connects to the positive power supply (Vs). This can be any voltage between 4.5V and 15V DC, but is commonly 5V DC when working with digital ICs.
2.
modes of operation
The 555 has three main operating modes, Monostable, Astable, and Bistable. Each mode represents a different type of circuit that has a particular output.
Astable mode
An
Astable Circuit
has no stable state - hence the name "astable". The output continually switches state between high and low without without any intervention from the user, called a 'square' wave. This type of circuit could be used to give a mechanism intermittent motion by switching a motor on and off at regular intervals. It can also be used to flash lamps and LEDs, and is useful as a 'clock' pulse for other digital ICs and circuits.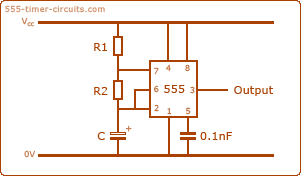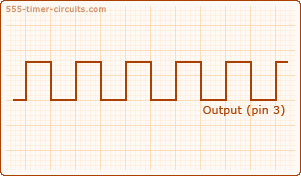 Monostable mode
A
Monostable Circuit
produces one pulse of a set length in response to a trigger input such as a push button. The output of the circuit stays in the low state until there is a trigger input, hence the name "monostable" meaning "one stable state". his type of circuit is ideal for use in a "push to operate" system for a model displayed at exhibitions. A visitor can push a button to start a model's mechanism moving, and the mechanism will automatically switch off after a set time.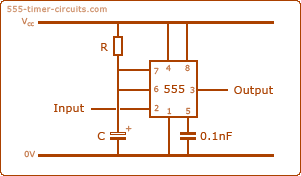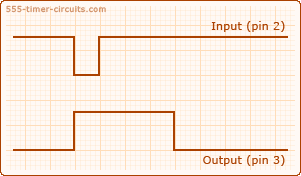 Bistable Mode (or Schmitt Trigger)
A
Bistable Mode
or what is sometimes called a
Schmitt Trigger
, has two stable states, high and low. Taking the Trigger input low makes the output of the circuit go into the high state. Taking the Reset input low makes the output of the circuit go into the low state. This type of circuit is ideal for use in an automated model railway system where the train is required to run back and forth over the same piece of track. A push button (or reed switch with a magnet on the underside of the train) would be placed at each end of the track so that when one is hit by the train, it will either trigger or reset the bistable. The output of the 555 would control a DPDT relay which would be wired as a reversing switch to reverse the direction of current to the track, thereby reversing the direction of the train.